Career Trek's Learning Model draws on career development theory and practice. Career Trek uses this model to guide program planning.
Career Trek's four-step learning model guides young people through education and career development learning. Career Trek leads participants through increasingly more challenging and enriching program content.
The basis for our model is the belief that hands-on career-related tasks gets participants engaged and invested.
We've built each step around one of four career development support stages. Each step provides children and youth with the foundation they need to progress to the next.
At each step, participants complete the Career Trek Process. This process involves doing, learning, and assessing. The Career Trek Process helps young people to become adaptable in their future careers.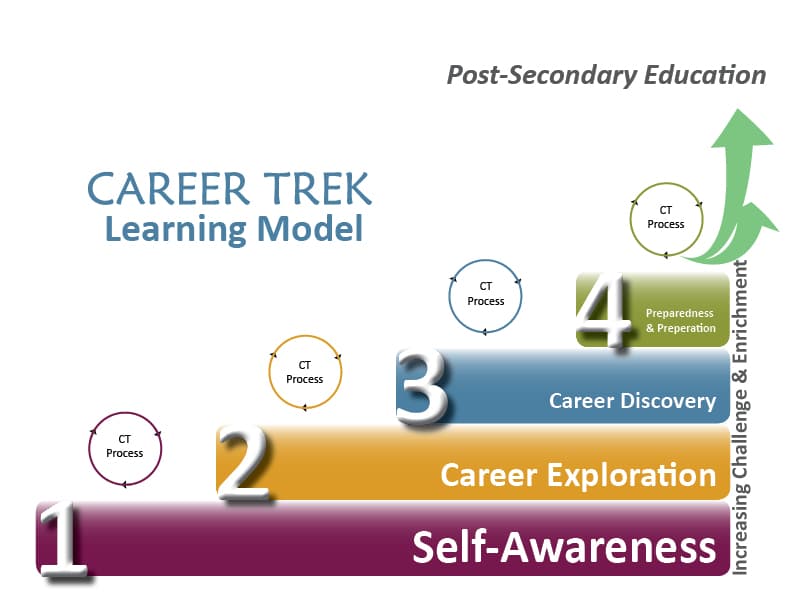 Self-Awareness: Grades 5 and 6
Step One helps participants discover their options, and their likes and dislikes. We introduce students to different careers. They reflect on their experiences. They become aware of their strengths and weaknesses. They can use this knowledge to begin thinking about the future.
Wonder of Work (Winnipeg), Wonder of Work (West), and Wonder of Work (North) are all Step One programs.
Career Exploration: Grades 7 and 8
In Step Two, Career Trekkers begin matching their interests and strengths to career choices. This is the career exploration phase.
Career Trek is currently exploring options for a permanent Step Two Career Exploration program.
Career Discovery: Grades 9 and 10
In Step Three, participants begin to zero in on careers that are in line with their skills and interests. At this stage, Career Trek participants have an option to do a focused study project. Projects are based on one of 12 occupations.
Career Trek's Get Ready to Work! program is a Step Three program.
Preparedness & Preparation: Grades 11 and 12
In Step Four, participants have more authority and agency. They prepare for their transition into post-secondary or the workforce. Participants help Career Trek staff to deliver lessons and mentor participants. This helps them gain valuable employment experience.
Career Trek's Junior Staff Mentorship Program is a Step Four program.
This model provides participants with the supports they need at critical points in the career journey. These supports help participants transition from school to work.